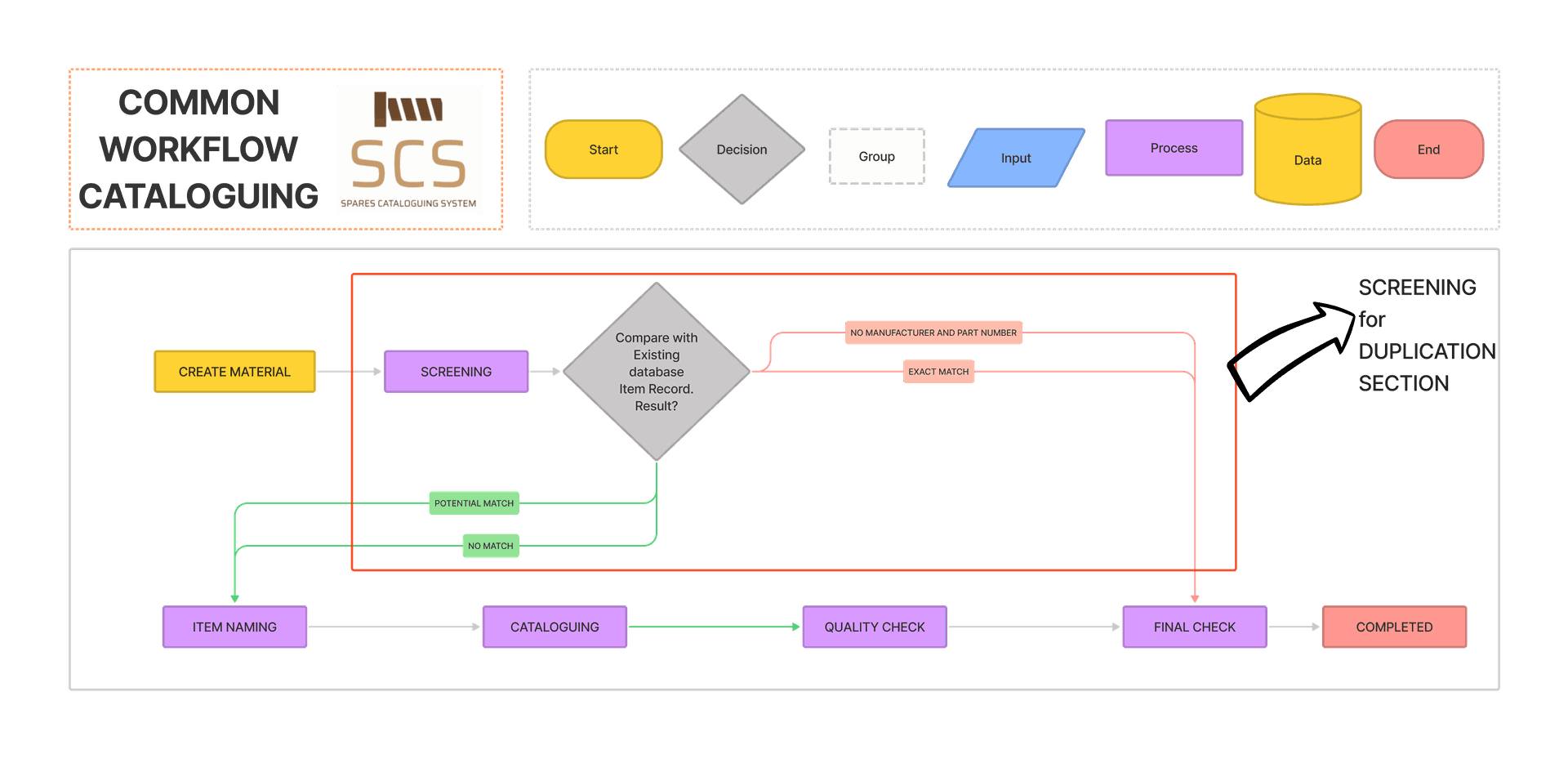 Cataloguing is the activity of collecting, storing and presenting goods data in an organized manner by classifying and coding it according to standards, so that it can be used according to the needs of a company. The standards of classifications and code of materials must be applied consistently to support communications that related to materials between operational functions within the company.

Good cataloguing will minimize the obstacles of managing material database such as material duplication, high inventory value, increased operational costs and large deadstock materials number.

One of the most important tasks of cataloguing is screening for duplication. Duplicated items can cause high inventory value and also increase operational cost.
Screening for Duplication
Based on NATO common material master, it represents a significant marketing opportunity for manufacturers and suppliers, and therefore they have an incentive to not describe or describe their products in a way that appear unique.

Also, each Nato Codification Bureaus (NCB) motivated to represent their national manufacturers and suppliers. So, it is possible and not uncommon for duplicate items to be described in such a way as to defeat the screening progress.

The reference number screening process result in one of four determinations:
Exact Match
An exact match exists when the reference matches an existing reference on the database. In other words, the new item have the same manufacturer and part number.
Potential Match
A potential match exists when a reference matches an existing reference, but the existing reference is not a preferred reference or alternate source reference.
No Manufacturer and or Part Number
A condition where the new item has no manufacturer and or part number, so the screening cannot proceed.
No Match
Duplicate Resolution
During creating a new material process, identifying an exact or potential duplicate requires just a simple resolution: the new item's reference is added to the existing item.

The challenge is when screening existing master data, can occur as a part of data cleansing exercise or whenever data specifications are reduced. Once two or more items are potential to be duplicates, then one record can be chosen as the surviving record. The best practice is using ISO 800-120 recommended format, the internal reference (the material id or Stock Number) should also be added as part of identification. So when finding an exact match, the new item can be merged with the existing material id or stock number.
"BEST SOLUTION FOR:
STANDARDIZING, GOVERNING, ENRICHING, FINDING AND LEVERAGING MRO MASTER DATA ACROSS THE ENTERPRISE."